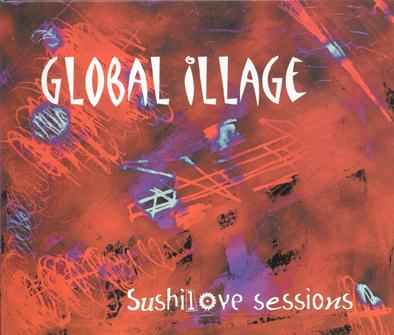 Global Illage
Sushi Love Sessions
The Philadelphia-New York improvisational quartet of Global illage and their resonant world vision is unleashed from members and collaborators of Les Nubians, Jazzheads, Elwood, Sylk130, Spoken Hand Ensemble, Ursula Rucker, Boyz II Men, Zakir Hussain, King Britt and others.
Chris Cuzme

soprano + tenor sax, didgeridoo, exotic flutes, tibetan bowl

Jim Hamilton

percussion batterie

Tim Motzer

guitars, synth guitar, bass, guitarloops

Dan Sears

trumpet, fluegelhorn, flutes, chordal pipes, and tibetan bowl
The first sessions were largely group improvisations yielding two wildly divergent CDs. The lush ambience of the "chill side" is a kind of "Peter Gabriel's Passion meets ECM". On the "ill side": dark and menacing, an ill-fated futureworld of ambient punk funk abstraktions ... "tortoise meets tabla beat science".